"This is a great place with awesome instructors. Adults can learn about martial arts and self defense in one place while also getting a work out. This is not just a place for kids, but my kids always love it there and learn a lot, too"
"I enrolled my daughter Haley here so she can build mostly on the indomitable spirit, self control and focus skills and every single day we've been in there, I leave impressed and wanting to come back. She loves every bit of her sessions. Proud of my baby. Thanks Guidos!!!"
"I had the opportunity to learn some self-defense moves and be a part of the adult/teenage class for the summer. It was a very rewarding experience to earn my yellow belt."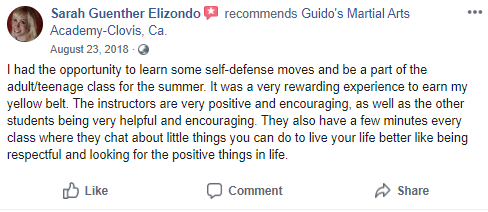 "A very impressive first time class for my four year old daughter. She was assigned a buddy to help her thru the class and let me tell you, her buddy ( Dylan- maybe 9 or 10) was respectful and very supportive."